SOUTH AMERICAN "HONEYMOON" | FROM GALÁPAGOS TO MACHU PICCHU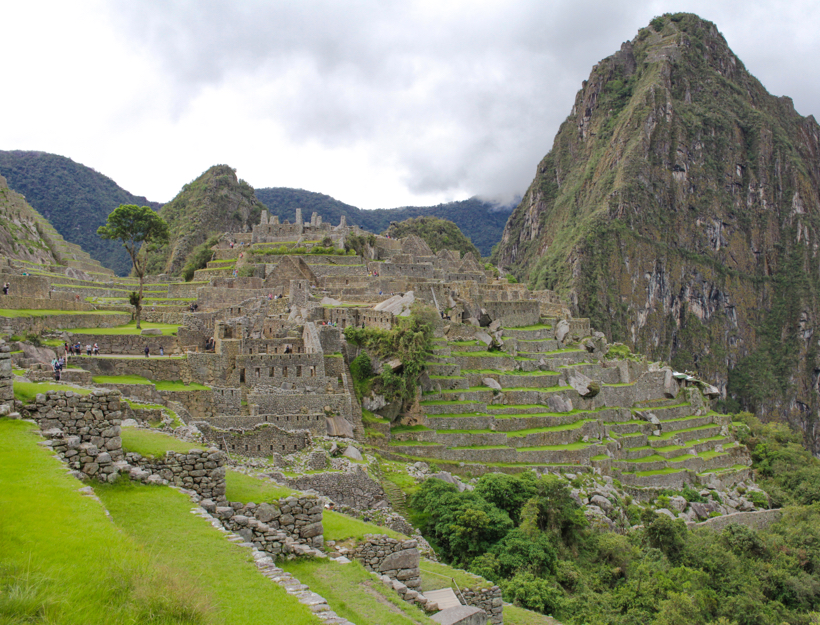 By Justin Chapman, Culture Honey Magazine, 10/20/2022
As a long-time pet parent to a California desert tortoise (spawned by my love of the Ninja Turtles as a kid) named Stockton (Hunter Thompson's middle name), I'd always wanted to visit the Galápagos Islands to see the famous giant tortoises there. Scientists believe those ancient animals arrived on the islands about 3 million years ago by "drifting 600 miles from the South American coast on vegetation rafts or on their own" according to the Galápagos Conservancy. Incredible, considering even getting there in this modern age is no small trek.
After my wife Mercedes and I got married, I suggested we honeymoon in South America. We had family friends in Lima, so we planned on Machu Picchu in Peru and the Galápagos in Ecuador.
As it turned out to be a bit of a rough-and-tumble adventure, Mercedes said that that trip did not count as our honeymoon, and that I still owe her a week on a beach in paradise.
Roughin' it in the Galápagos
It was hot and muggy when we touched down in Guayaquil (pronounced WHY-uh-keel), Ecuador. Early the next morning, we were off to the airport again for our flight to the Galápagos. Just before we landed on Baltra, the gateway to the islands, the flight attendants opened the luggage compartments and fumigated all the bags.
Baltra Island is a small, flat, desert island with weeds, rocks, and a landing strip. We crossed Canal de Itabaca on a ferry to Santa Cruz Island, the biggest and most populous in the Galápagos.
We drove over the highlands, where the desert gave way to lush, misty, tropical jungle. Enormous tortoises lounged close to horses by the side of the road. Eventually we escaped the mist and drove down through small towns where laundry was hanging in the yards, a soccer match was underway at an elementary school, and women shopped at a farmer's market.
It was raining when we arrived in Cascajo in the middle of the jungle island. Definitely off the beaten path. We didn't have an address for our Airbnb, so the driver stopped at a small local shop to show the cashier, a 9-year-old girl, a photo of the house and ask her for directions.
Our cottage was octagon-shaped with screen doors and flimsy latches. There was a gap between the tin roof and the walls, so when it rained—which it did a lot—it was loud, and hundreds of centipedes and gnarly spiders crawled through the gap and covered the white walls. There was a dead frog in stagnant water by the toilet. It smelled like mold. The bedsheets were damp. There was no mosquito net, so I was soon covered in bright red mosquito bites, like chicken pox. The water came out of the faucet in a small drip. The toilet wouldn't flush, so we had to wait a couple hours while the faucet filled a bucket with water.
"Great honeymoon, Justin," my new wife said.
"What's a honeymoon?" I said.
Charles Darwin and the fountain of youth
In Puerto Ayora, the island's main town, we visited the Charles Darwin Research Station, which had a Jurassic Park-esque vibe. We walked along a pier through mangrove thickets that were covered in thousands of large, multi-colored iguanas. We freed one iguana that was tangled in a rope hanging next to some boats that would surely have drowned soon otherwise.
"Yep, we just saved an iguana's life in the Galápagos today, no big deal," I said.
We walked past research facilities and an insect containment building to the captive tortoise breeding station. There were about 20 enormous tortoises with huge shells and long necks. So beautiful. Well worth the trek.
"Why give Lonesome George such a negative name?" Mercedes pondered. "Why not Hopeful George? It's all about putting good energy out there."
Lonesome George, of course, was the 102-year-old Pinta Island tortoise that was thought to be the last of its species. He died in 2012, but just before we arrived on the islands, Yale researchers discovered two more tortoises from the subspecies Chelonoidis niger donfaustoi which had a 90 percent DNA match with George. Scientists began exploring whether they could use this discovery to resurrect George's species.
We hiked past salt flats to Las Grietas, a beautiful, deep swimming hole surrounded on both sides by steep lava rock cliffs. The crystal clear water felt like the fountain of youth.
We met a Swedish tourist and told him we were going to San Cristobal Island the next day, and he said the ferry over would be the worst boat ride of our lives. He wasn't wrong.
The boat ride from hell
A taxi was supposed to be ready for us at 6 a.m., but apparently there was some miscommunication as our host hadn't called for one. We couldn't miss the boat or we'd miss our only full day on San Cristobal.
We rushed to Puerto Ayora and ran past a crowd of people on the pier. An agricultural inspection agent yelled at us to stop. He asked if we had flowers or other organics then inspected our bags and zip-tied them shut. We pushed our way through the impatient crowd and scored our spots on the Andy, a small, cramped speedboat overflowing with people and luggage.
Seasickness hit Mercedes hard. The boat went as fast as possible and slammed down every other wave or so for the entire two-hour ride, to the point where I thought the boat was going to split open.
Looking nauseous, she got up and struggled her way to the bathroom. She vomited repeatedly as the boat slammed her around. And there was a rat in the bathroom. She tried to leave, but the door was blocked (an Ecuadorian guy on the other side was holding it shut with his foot so it wouldn't swing open), so she stayed there because it was cooler than in the main cabin. She felt the rat crawl onto her leg and—she claims—nibble on her. She kicked her leg out and the rat went flying across the small room, squealing and then huddling in the corner. Mercedes began pounding on the door and the guy finally let her out.
She stumbled back to her seat next to me, looking absolutely miserable.
"Bathroom…door…rat…" she muttered.
"What?" I asked.
She shook her head and said, "Too hot," and wandered over to the open-air corner of the boat to the only tiny space available. She slumped in that seat, curled up her legs, and closed her eyes. It turned out nobody sat there because the waves slammed into her face every five seconds. She proceeded to get waterboarded for the remaining hour of the ride.
We immediately liked San Cristobal better than Santa Cruz. The main town, Puerto Baqueriza Moreno, was much friendlier, livelier, and quainter than Puerto Ayora.
After hiking to the other side of the island, we arrived at a steep cliff that overlooked the ocean. We could see iconic Kicker Rock way out in the water, around which hammerhead sharks swim. Below us was a truly stunning emerald green cove called Cerro Tijeretas. A big statue of a man, a tortoise, a sea lion, and an iguana overlooked the cove. It was magnificent snorkeling. Three sea lions were swimming around with us along with schools of silver fish, enormous parrot fish, and black fish with yellow trim.
Back in town, hundreds of sea lions were taking over the town and the beach. One was even napping on a bench. Another aggressive sea lion chased Mercedes on the boardwalk.
30 hours to Lima
We walked back to Cerro Tijeretas to go snorkeling again the next day, but the energy of the cove was completely different. Instead of smooth and calm waters like the day before, it was now choppy and wavy with bad visibility.
We went to the small, quaint island airstrip for our flight back to mainland Ecuador, where we walked up through Las Peñas, a historic barrio that winds up a steep hill. The neighborhood was the center from which the modern city of Guayaquil grew. It consists of 444 stairs to get to the top, with old houses, bars, restaurants, and shops along the way, featuring a panoramic 360-degree view of the city's large rolling hills sparkling with multi-colored lights from residential neighborhoods.
To get down the coast to Lima, Peru, we took a 30-hour bus ride. Mercedes understandably insisted we book the luxury section, which wasn't as nice as you might think.
The bus headed south into the Ecuadorian countryside and then northwest Peru, a barren, arid landscape. The desert sands stretched all the way to the ocean, blending in with the beach sand, punctuated by rocky, rolling sand dunes. A presidential election was coming up, so candidates' names—including the daughter of a former Peruvian dictator—were painted in their campaign colors on any available surface in each town.
The lost city
From Lima, we were soon drinking coca tea on a small plane to Cusco, Peru, a stunningly gorgeous historic town with hilly, cobblestone streets and open-air markets on train tracks. Coca leaves, coca candy, and other coca products were sold in the airport and just about every other shop in town. Turned out to be very helpful with the intense altitude sickness. It was hard to breathe just standing there doing nothing, let alone walking up and down the city's winding, steep hills.
Our hostel, Loki, was popular with hip young travelers. It was situated on a steep, winding street with a great view of the city and the mountains. But we barely got any sleep there because a huge party was raging all night in the bar, just a few doors down from our room. And we had to get up early to go to Machu Picchu.
We took a 30-minute taxi through lush canyons to Poroy Station, where we were to board our luxury train to the Lost City. We were greeted with champagne as a traditional Peruvian band played on the boarding platform and dancers in colorful dresses, suits, and hats performed.
We boarded the Hiram Bingham train, named after the man who "discovered" Machu Picchu since the Incas left it hundreds of years ago. The blue and yellow train sported elegant wood-paneled walls. The caboose had a beautiful bar and lounge area, an open-air patio at the very back, and comfy chairs.
A band played as waiters served us Pisco sours, Peruvian wine, coca tea, and lomo saltado.
Mercedes cried because it was so nice after everything we'd been through. She ordered an oxygen tank and puffed away on it.
Once we arrived in Machu Picchu Pueblo, a little town at the base of the mountain range, we boarded a bus that took us on a 30-minute drive and wound its way up the steep cliffside to Machu Picchu. Upon entry there was a small station where we got to stamp our own passports.
It was truly an amazing place. Several huge, sharp mountains jutted up from the valley below. We went exploring through the ancient stone structures and passageways and took in the views. There were little irrigation aqueducts throughout the citadel, visible only when you were right over them. I turned around at one point to find one of the many llamas that wander around staring right at me a foot away.
Back in town we got on the less expensive, less fancy Vistadome train, which promptly broke down, stranding us for two hours. Our taxi driver who was waiting for us—and who had overcharged us—was pissed, but we couldn't understand what he was saying.
Loki's bar was jumpin' with smashed, attractive twentysomethings wearing Santa hats when we got back. We were exhausted, but there was no going to sleep with that noise, so we joined the party. They yelled the Loki chant: "Loki! Loki! Loki! Oi! Oi! Oi!" as they participated in a "Blood Bomb World Cup," with each person representing a different country to see who could drink the most blood bombs (Red Bull, vodka, and grenadine). The bartender lined up 30 bombs on the bar and lit them on fire with a huge torch as the crowd screamed in delight. The bar itself caught on fire in front of us. The music was ear-splittingly loud. Black lights, neon lights, and disco ball lights flooded the otherwise dark bar.
The next day a fierce lightning and thunder storm hit as soon as we stepped outside. We donned ponchos and waded into the rain over wet cobblestone streets. We ate alpaca burgers and coca lemonade at Papacho's overlooking the Plaza de Armas. Mercedes got locked in the bathroom for the second time on this trip.
Paragliding over Miraflores
On the last day of our "honeymoon" back in Lima, we walked along the Malecón, a landscaped path along the steep cliffs of Miraflores overlooking the beach, ocean, and Lima islands in the distance.
In Lovers Park, which has a big statue of a couple embracing and kissing, we saw paragliders in the air. We strapped up ourselves and shot out past the cliff over the ocean and rose 500 feet in the air. We sailed over Lima stretching out for miles, like a small model city: the tiny cars on the highway, the surfers on the waves, the endless buildings across the Peruvian capital.
At least the "honeymoon" ended on a high (literally and figuratively) note. I'm still on the hook for a week in paradise.