Insights from Members Weekend 2016
OCTOBER 21, 2016
By: Justin Chapman, Pacific Council
This year's Members Weekend spanned two days of panel discussions, high-level keynote interviews, roundtables, and a debate on U.S. engagement around the world. Experts from the U.S. Department of State, the Council on Foreign Relations, the RAND Corporation, the Los Angeles Times, and many others participated in our signature annual conference.
During the first keynote interview, U.S. Secretary of Commerce Penny Pritzker laid out the Obama administration's argument for rules-based trade. The second keynote interview featured U.S. Ambassador to Mexico Roberta Jacobson and Mexico's Ambassador to the United States Carlos Sada discussing the state of U.S.-Mexico relations.
The conference's plenary and breakout sessions included discussions on the refugee crisis, the fight against ISIL on social media, the race for a Zika vaccine, trade and investment in Africa, California's drought and the global water crisis, North Korea's nuclear future, and the future of U.S. strategic interests in three regional theaters: Asia, Europe, and the Middle East.
The following are just a few of the insights from Members Weekend 2016.

____________________
'Staggering' refugee crisis becomes protracted, long-term issue
Moderated by Ms. Ann M. Simmons, global development writer and editor at the Los Angeles Times, this panel featured Dr. Meghan Benton, senior policy analyst at the Migration Policy Institute; Ms. Shelly Culbertson, policy analyst at the RAND Corporation; and Mr. Sysvanh Kabkeo, bureau chief of the California Department of Social Services' Refugee Programs Bureau.
"The statistics are obviously staggering," said Simmons. "According to the United Nations High Commissioner for Refugees, around 65.3 million people were displaced from their homes by conflict and persecution in 2015. Of those, some 21 million are officially classified as being refugees. The conflicts in Syria, South Sudan, Ukraine, and Myanmar caused the crisis to explode."
She added that just 10 countries host more than half of the world's refugees. Benton pointed out that Germany alone received the equivalent of 1 percent of its population in refugees last year.
Culbertson said the numbers are so big they are changing the demographics of countries they are entering.
"This is a long-term situation," she said. "The crisis has become protracted. This is not a refugee crisis in which there's violence, people cross a border for a couple of years, and then can expect shortly to go home to intact houses and communities. When a refugee crisis has become protracted, the average time to return home is 25 years."
Benton pointed out that refugees have a lot to offer.
"Syrians are very educated," she said. "But Europe has been historically really quite bad at supporting refugees and family unification migrants into work. If you look at the United States, it is a completely different story."
Kabkeo agreed, adding that California "has done a good job of integrating refugee children, and Los Angeles in particular has done a lot to become a welcoming place for refugees."
Kabkeo, a former refugee himself, said the main issue in Los Angeles is that much more affordable housing is needed.
Fighting ISIL on social media
Moderated by Ms. Kay Ko, community outreach specialist at the Federal Bureau of Investigation, the panel featured Dr. Martha Crenshaw, senior fellow at the Freeman Spogli Institute for International Studies; Dr. Elizabeth Bodine-Baron, engineer and director at the RAND Corporation's Center for Applied Network Analysis; and Colonel (r.) Steve Miska, national security consultant.
Crenshaw argued that it is not at all surprising that ISIL and similar groups use varied forms of communication "because that's what it's about for them. Terrorism has been defined as a form of violent communication. It's an act of violence that communicates a message. We think of ISIL and al-Qaeda as being archaic fundamentalists that want to go back to the 7th century in terms of governing. Yet they're really good at technical things, and that seems like something of a disjuncture."
Bodine-Baron said the news is not all bad when it comes to ISIL and social media.
"In fact, there are far greater numbers of opponents to ISIL as opposed to supporters on social media," she said. "We [at the RAND Corporation] did a study looking at 10 months' worth of data from July 2014 to May 2015, and we found a ratio of 4:1 in terms of anti- to pro-ISIL content, 6:1 in user accounts, 10:1 in active user accounts, and 30:1 in active user accounts after Twitter started its account suspension campaign."
"As ISIL's ground hold is degraded, so is their digital presence."

Colonel (r.) Steve Miska
Bodine-Baron also warned that a one-size fits all anti-ISIL message will not work across all nationalities and communities.
"Anti-ISIL messages must be targeted to a specific audience, and they must come from someone who resonates with the audience," she said.
However, even if anti-ISIL messaging is successful on social media, Miska argued, that alone will not defeat the terrorist organization.
"The best strategic communications are grounded in reality on the ground," said Miska. "As ISIL's ground hold is degraded, so is their digital presence. Insurgents are very innovative and continue to adapt and adjust to conditions, and so the United States needs to do the same thing. It needs to create more resilient networks in order to combat ISIL."
Before Members Weekend, all three panelists contributed op-eds related to this panel. Read Crenshaw's article on countering violent extremism online; Bodine-Baron's article on fighting ISIL on social media; and Miska's article on safeguarding soft networks in conflict zones.
The race for a Zika vaccine
Moderated by Mr. Arthur J. Ochoa, senior vice president of Community Relations and Development at Cedars-Sinai Health System, this panel featured Ms. Katherine E. Bliss, senior associate at the CSIS Global Health Policy Center, and Dr. Peter Katona, clinical professor of medicine in infectious diseases at the David Geffen School of Medicine and Adjunct Professor of Public Health at UCLA.
The Zika virus continues to spread in Florida, Puerto Rico, South America, and as far away as Northern Ireland and Singapore. Declared a global public health emergency by the World Health Organization in February 2016, officials reaffirmed that status in September. Officials have gone as far as advising women to delay pregnancy if they travel to or live in a region affected by the mosquito-borne and sexually transmitted disease because of the devastating defects it appears to cause in newborns, such as microcephaly.
"Many producers working on a Zika vaccine globally, but it could take more than 18 months for approval," said Bliss. "It can take 15 to 20 years for vaccines to reach countries that need them most."
She added that when it comes to preventing and responding to disease outbreaks, the interests of the public, the state, the private sector, and the nonprofit world coincide, but they do not entirely correspond.
"The public may be concerned about their own health, governments may be concerned about economic outlooks and political stability, companies may be concerned about economic impact but also see economic opportunities, and NGOs may align themselves with any of the above groups," she said.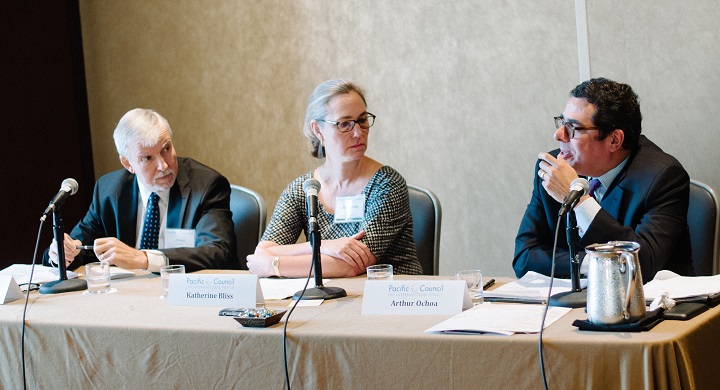 Katona laid out a potential worst case scenario regarding the Zika virus in the United States.
"There are about four million births a year in the United States," he explained. "The lower half of the country is endemic to the mosquitos that carry Zika. If you assume that three percent of women are infected with Zika over the next three years, and one percent of the children born to these mothers will have this serious brain complication called microcephaly, at about $10 million per child, then we're talking about a cost of $200 billion. That's a worst case scenario."
Katona said medical professionals are concerned about the long-term consequences of Zika because they do not quite know what they are yet.
Trade and investment opportunities in Africa
This panel explored Africa's recent economic transformation through the promotion of intracontinental and international trade and investment. Moderated by Mr. Michael J. DeRenzo, country manager for Southern Africa at the U.S. Trade and Development Agency, the panel featured Mr. Grant T. Harris, chief executive officer of Harris Africa Partners LLC, and Dr. Vera Songwe, regional director for West and Central Africa for the International Finance Corporation.
"We've seen explosive economic growth on the continent, but U.S. companies are still underrepresented when we consider Chinese, Brazilian, Turkish activity on the continent," said Harris. "We need more of these companies to realize that Africa, with its billion inhabitants, has a young, increasingly connected, and urbanized population."
Songwe agreed, saying, "Africa is the second largest growing economy, but it needs $8 billion more in investment. There are lots of great opportunities for foreign direct investment in Africa, including Nigeria, Kenya, Côte d'Ivoire, Ghana, Cameroon, and many others."
Harris also placed an emphasis on the importance of trade with African nations.
"It's important to reorient U.S. policy to get beyond the aid relationship and start thinking about trade, about self-interested U.S. companies realizing the economic potential on the continent," he said.
California's drought and the global water crisis
For the past five years California has experienced a record-breaking drought, precipitating the need for smart and effective water-related policies. But the water crisis is not unique to California alone: a recent paper showed that about 66 percent, or four billion, of the world's population lives without sufficient access to fresh water for at least one month of the year.
Mr. Steve Westly, founder and managing partner of the Westly Group, and Mr. Barton H. Thompson, Jr., Robert E. Paradise professor of natural resources law at Stanford Law School, delivered TED-style talks on California's drought and the global water crisis. This session was moderated by Ms. Rachel Cardone, the global water scarcity project fellow for the Pacific Council.
"Drought is the most costly of any natural disaster," said Thompson, adding that "two million people depend on groundwater as their sole source of water."
Thompson said that in order to encourage innovations in tackling the enormous problem of water scarcity in California, we need to see more public-private partnerships.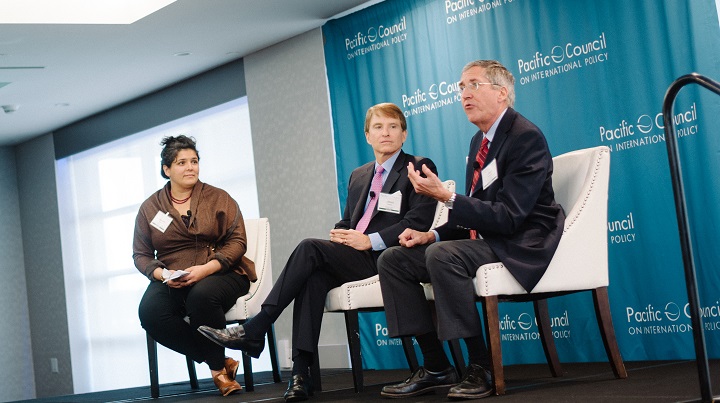 "Drought is costing California thousands of jobs and billions of dollars in revenue," said Westly. He added that the best solutions for water scarcity are conservation, capture, and recycling, not desalination, which he said is the least cost-effective solution in producing fresh water.
"Who will have the next $1 billion idea to revolutionize water?" Westly asked. "One thing is for sure: It will come from California."
Cardone is leading a comprehensive planning effort to scope the objectives and activities of the Pacific Council's future policy work on global water scarcity. Read more about her work.
North Korea's nuclear future
In early September, North Korea set off its fifth – and most powerful – nuclear bomb test, and South Korea says they are ready to test a sixth at any time. Experts are now saying that North Korea could have enough uranium for 20 nuclear bombs by the end of the year and a self-sufficient nuclear program that is capable of producing around six nuclear bombs a year.
Moderated by Mr. John Mecklin, editor-in-chief of the Bullet of the Atomic Scientists, this panel featured Ms. Jennifer M. Harris, senior fellow at the Council on Foreign Relations; Dr. Amy J. Nelson, Stanton nuclear security fellow at the Council on Foreign Relations; and Mr. Hyuk Kim, resident fellow of the Nonproliferation and Nuclear Security (NPNS) and James A. Kelly Korean Studies Programs at the Pacific Forum CSIS.
"The question now is, 'How do we deter the DPRK's nuclear capabilities?'" said Kim. "It is estimated that the DPRK will soon have 10-20 nuclear weapons. They now claim they have the capability to deter the United States."
Kim added that it is now time to "make clear that the DPRK has to choose between survival and nuclear weapons."
"The DPRK issue must be a top priority in the next U.S. president's agenda."

Mr. Hyuk Kim
Nelson said an agreement like the Iran nuclear deal will not work in this situation because the two sides are unwilling to agree on certain preconditions. However, she added that "we're not going to get anywhere unless we open channels to dialogue. As long as we keep these diplomatic channels closed and whisper about agreements from the margins, we're really not going to be able to get anywhere."
Harris said part of the answer has to be China.
"In the case of North Korea, moving to the kinds of sanctions that really brought Iran to the negotiating table would mean primarily putting the squeeze on China," she said. "It would be the Chinese financial system that would bear the brunt of the sorts of sanctions that would potentially be compelling."
Kim emphasized that "the DPRK issue must be a top priority in the next U.S. president's agenda."
U.S. foreign policy challenges in Asia, Europe, and the Middle East
In Asia, tensions continue to mount in the South China Sea following an international court's ruling against China's territorial claims and the U.S. Navy's insistence on continuing to sail there. Meanwhile, North Korea called U.S. sanctions on Kim Jong-un a "declaration of war."
In Europe, the political and economic repercussions of Brexit continue to roil the United Kingdom and European Union. Meanwhile, record numbers of migrants continue to seek safe haven on European shores, and relentless terrorist attacks across the continent have left everyone on edge.
And after more than five years of conflict in Syria, there is still no end in sight as Assad, rebel groups, Iran, ISIL, Russia, the United States, and other major players jockey for position and power in the chaotic Middle East region.
Moderated by Mr. Mitchell Landsberg, deputy foreign and national editor of the Los Angeles Times, this panel featured Dr. Tanvi Madan, director of the Brookings Institution's India Project; Mr. Derek Chollet, counselor and senior advisor for security and defense policy at the German Marshall Fund; and Dr. Jerrold D. Green, president and CEO of the Pacific Council.
Russia's involvement in Syria actually weakens its position in the region.
Chollet predicted a "more distracted and divided" Europe in the future. At the same time, "There are a lot of questions in Europe about what kind of society the United States is becoming," he said. "Europe, Asia, and the Middle East want more of the United States, but the next president must find a balance [because] rising global nationalism will provide a challenge."
Chollet argued that Russia's involvement in Syria actually weakens its position in the region.
"I think the story in the next 15 years is more about Russian instability and decline, which is more dangerous," he said.
Green said that the United States "needs better instruments and better partners in the Middle East."
Madan discussed the sweeping changes in the Asian theater being brought about by rapid improvements in telecommunications technology. She also raised the concerns in India about "the extent to which Hindu nationalism is a dominating trend. Indian nationalism is not going anywhere, the question is whether it will grow or not," she said, adding that the biggest concern for India is the China-Pakistan economic corridor.

____________________
Justin Chapman is the Communications Associate at the Pacific Council on International Policy.
Members Weekend highlights the work and expertise of the Pacific Council community of members and partners. Take a closer look at this year's event, and read all Members Weekend analysis now in our Newsroom.