Khalilzad: America Needs a Policy of "Congagement" with Iran
MAY 12, 2016
By: Justin Chapman, Pacific Council
The United States should continue to resist Iran's push for regional hegemony even while finding ways to work together, Ambassador Zalmay Khalilzad told Pacific Council members during an event on May 9.
Ambassador Khalilzad was the former U.S. Permanent Representative to the United Nations (2007-2009), U.S. Ambassador to Iraq (2005-2007), and U.S. Ambassador to Afghanistan (2003-2005). He referred to this policy as "congagement": containment and engagement.
"You have to use all tools: pressure, engagement, and talking," Khalilzad explained. "Why not have flights between New York and Tehran? Why not have [Secretary of State John] Kerry visit Tehran, and have [Iran's Minister of Foreign Affairs Mohammad Javad] Zarif come to Washington?"
Khalilzad emphasized that the three major regional powers – Iran, Saudi Arabia, and Turkey – need to come to an understanding and establish rules for engagement, given Washington's desire not to be extensively involved in Middle East affairs.
"As we engage Iran, we also need to reassure a strong relationship with Saudi Arabia," he said.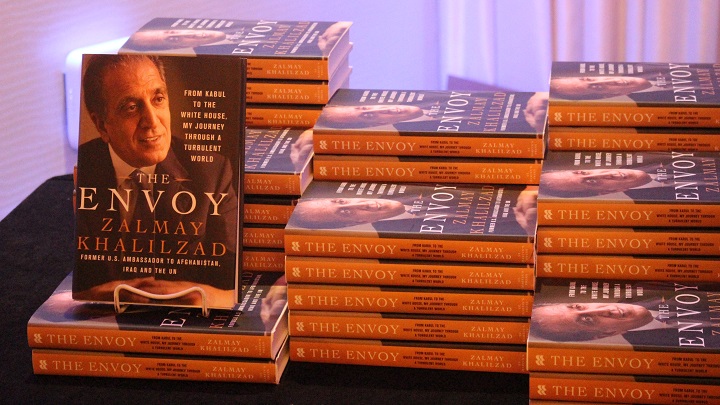 Khalilzad is the author of a new book, The Envoy: From Kabul to the White House, My Journey Through a Turbulent World. In the book, Khalilzad details his experiences under three presidential administrations. He argues that America needs an intelligent, effective foreign policy informed by long-term thinking and supported by bipartisan commitment.
Khalilzad argued the United States should continue to support the Afghanistan government and expressed his concern that the United States might prematurely abandon the region.
"We should sustain a level of support for the Afghan armed services, encourage diplomacy between Afghanistan and Pakistan, and continue to do counter-terror operations [in the region]," he told the group.
Khalilzad is also the founder and president of Gryphon Partners, a global advisory firm focused on frontier markets.
"We need to do what we can to preserve a society where different cultures contribute to America."
When asked why he joined presumptive Republican presidential nominee Donald Trump's foreign policy team, Khalilzad denied the claim.
"I didn't join his foreign policy team or endorse him, I just introduced him before he gave a foreign policy speech," he said. "Have things gotten so bad in this country that you can't even introduce someone? I introduced him to show that someone with a Muslim background could be trusted. We need to do what we can to preserve a society where different cultures contribute to America."
____________________
Justin Chapman is the Communications Associate at the Pacific Council on International Policy.
The views and opinions expressed here are those of the speaker and do not necessarily reflect the official policy or position of the Pacific Council.