Global LA Summit Insights: Drones, Hollywood, and More
MAY 1, 2018
By: Justin Chapman, Robert Dunbar, Pacific Council
This year's Global LA Summit featured panel discussions about issues related to Los Angeles' position as a global city, keynote interviews, and a Global Community Expo featuring LA-based organizations with engagement opportunities for members.
The sessions topics included the future of drones, the path to a renewable LA, the Sustainable Development Goals, NAFTA, Olympic lessons from Barcelona, water conflict, immigration lessons from Canada, the shifting global entertainment market, and more.
What follows are just a few of the many notable insights from the conference. Read more insights here.

____________________
The Future of Drones
Moderated by Dr. Stephanie Young, political scientist at the RAND Corporation, this "The Future of Drones: Promise and Uncertainty" session featured Mr. Wahid Nawabi, president and CEO of AeroVironment.
"Drones have dramatically changed how our troops protect themselves and engage with the enemy on the battlefield," said Nawabi. "They provide actionable intelligence and save lives."
He explained that the military first researched and used drones in their work, which then allowed private entities to expand drones into the commercial space.
"Now we need the right set of regulations to allow this industry to grow and remain safe," he said. "The innovation of analytics from these drones is transformative, and we're just at the beginning. There's much more to come in terms of what we can do with this data. Of course, drones can be misused by people, just like any technology, but with proper training and regulations they can change our lives for the better. As a company, we feel strongly about our role in ensuring the security of our drones. We must and do take privacy and security very seriously."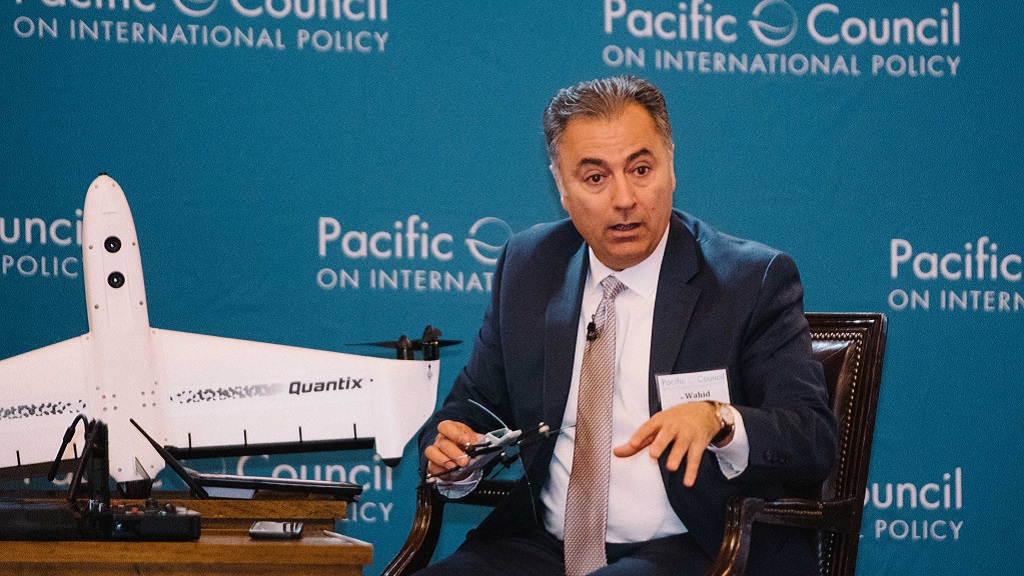 He showed off a new drone that has benefits in the agriculture space, such as allowing farmers to completely and remotely map their farms so they can make informed decisions. He said the cost per hour of operating one of his company's drones is much cheaper than using helicopters and boats to monitor and track oil spills.
When asked about the prospect of drones delivering packages, he said that is still a long way off.
"We still have a lot of work to do to prove the track record of drones before that goes mainstream," he said.
Implications for Southern California from the NAFTA Negotiations
Moderated by Ms. Anne Hilsabeck, principal and founder of AMH Customs Consultants, this "A New NAFTA? Implications for Southern California" session featured Ms. Farhanaz Kermalli, senior analyst of international affairs and trade at the U.S. Government Accountability Office; Mr. Carlos Valderrama, president of the Center for Global Trade and Foreign Investment at the Los Angeles Area Chamber of Commerce; and Mr. James Villeneuve, Consul General of Canada in Los Angeles.
"There's never been uncertainty in trade like there is today," said Hilsabeck. "If the United States pulls out of NAFTA, it would be such a disruptive event for our trade in North America."
Valderrama agreed and called for everyone to "convince our elected officials to more vocally support NAFTA before it's too late."
"We need to make an argument that pulling out of NAFTA will do more than impact people's wallets. This is about more than trade statistics."

Michael Camuñez
Villeneuve said Canadian officials at the consulate in Los Angeles are doing just that by advising all interested CEOs and business owners to lobby their elected officials to get a NAFTA deal done. Villeneuve believes that Canada has put together the strongest trade negotiation team they have ever had for these NAFTA negotiations, including business, labor, and environmental interests.
The Honorable Michael Camuñez, a Pacific Council Director and president and CEO of Monarch Global Strategies LLC, pointed out that should the NAFTA negotiations fail, the consequences will be negative and far-reaching, beyond just an economic impact.
"We need to make an argument that pulling out of NAFTA will do more than impact people's wallets," he said. "This is about more than trade statistics."
The Shifting Global Entertainment Market
Moderated by Mr. Erich Schwartzel of The Wall Street Journal, this "Bollywood, Nollywood, and Beyond: The Shifting Global Entertainment Market" session featured the Honorable Colleen Bell, former U.S. Ambassador to Hungary and television producer; Dr. Seagull Song, professor at Loyola Marymount Law and advisor to Chinese film clients coming to the United States and U.S. studios going to China; and Ms. Xian Li, a producer and studio executive at 20th Century Fox where she manages development and production for Fox's Asia division.
Bell spoke about her time in Hungary and countering disinformation coming into Eastern Europe from Russia, which "is anti-American in nature." She spoke to countering this disinformation by using the vast library of U.S. movies and television shows in a public diplomacy effort to show U.S. culture for what it is.
"We have this huge library of content that we can flood into a geographic location," she said. "These are shows that allow people the opportunity to see our culture. The soft power of entertainment can be used for social change—fictional storylines about refugees can make a difference."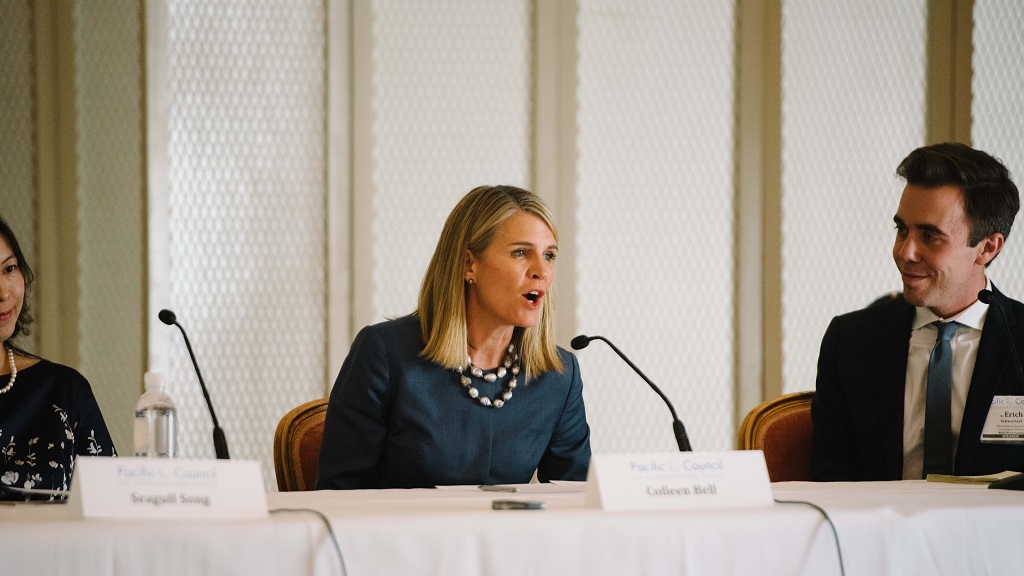 Song spoke about internet piracy in China, and how the restriction on importing films drives that activity, because "there is only very limited content that is allowed to be imported into China." There are only three types of ways non-Chinese movies can go into China, she added: quota film or revenue-sharing quota film, flat-fee film, or co-production films, which are "treated as a Chinese production because the creator has to be Chinese or Chinese and American, it has to be financed by Chinese and American money, and photography has to be Chinese and American."
Li spoke about the other markets in Asia that studios are looking at expanding into or are already in. Japan is the third largest market for consuming media in the world, and South Kore is number five, according to Li.
"The Korean market, similar to the Japanese market, is half and half: 50 percent local films, 50 percent Hollywood," she said. "The other emerging markets that we are keeping a close eye on are Indonesia, Vietnam, and Thailand. They have been producing very good small budget productions, including streaming services, but their infrastructure is not quite there yet."
Immigration Lessons from Canada
Moderated by Ms. Colleen Thouez of the UN Institute for Training and Research, this "The Making of the Mosaic: Immigration Lessons from Canada" session featured Mr. Terry Brown, consul and migration program manager at the Canadian Consulate in Los Angeles; and Dr. Linda Lopez, chief of the Office of Immigrant Affairs in the office of the Mayor of Los Angeles.
Lopez spoke to the role Los Angeles and other major cities play in international migration.
"Cities are going to be increasingly the centers or the places where we're going to have to address those different challenges, such as housing and employment," she said. "We're seeing networks emerge that have to do with how we address these challenges when all of a sudden we have migration flows that perhaps cities don't have the capacity to respond to."
"We don't have any anti-immigration political parties in Canada. The difference is that in Canada the right focuses on economic immigration and the left focuses on humanitarian immigration."

Terry Brown
Brown spoke about Canada's immigration system and how it compares to the U.S. model.
"We don't have any anti-immigration political parties in Canada," he said. "The difference is that in Canada the right focuses on economic immigration and the left focuses on humanitarian immigration."
Brown said Canada implemented a program highlighting rules-based openness, which allows international university students to stay and work in Canada upon completion of their degree.
"We looked at our system about 15 years ago and said, 'We have all these smart, young kids. Why are we making them go home?'" he said. "Now when you get a degree in Canada, you get a three-year, no conditions, open work permit at the end of it. That gives you Canadian experience and extra points in our merit-based system."
Still, Brown added, Canada needs to "make it easier for people to integrate into our country and realize their economic potential."
____________________
Justin Chapman is the Communications Officer at the Pacific Council on International Policy.
Learn more about the Global Los Angeles Summit. See photos from the summit here.
Read a summary of our keynote interviews with Dr. Liam Fox and Senator Christopher Coons. Check out photos from the summit on our Flickr page.
The views and opinions expressed here are those of the speakers and do not necessarily reflect the official policy or position of the Pacific Council.